Filmmakers' Bios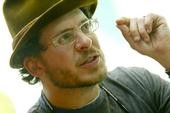 Aaron Wiederspahn (Writer/ Director/ Producer) — Raised in Wyoming, Aaron grew up knowing only of the wind and its companions. Although at a very early age he developed a strong proclivity for verse and could be sighted upon the open plains reciting poetry to a collective of sheep, his knowledge of the wind was all he would confirm. Upon graduating high school, he left his formative pastures in pursuit of a life on the stage, enduring the endless prod of cattle calls. But, wanting to leave the days of Wyoming behind, he soon thereafter left the stage. While struggling to find his place of purpose, he aimlessly began to sing songs in dilapidated bars, drink dollar beers, and slumber on many a person's sofa, quietly slinking into despair. It was at this time, sofa surfing in Orlando, Florida, that he had a strange and mysterious dream, a life changing event. A wise looking man of more than a thousand years, riding upon a great white buffalo, summoned him, a video cassette in his hand, saying, "Go! You, Aaron of the sheep people, take this video and watch, study and prepare, show yourself approved, make buoyant your heart and mind, create art for the everyman, beautiful and wondrous, remembering always to exercise vigilance. And, of course, don't forget to thank me should you ever win any awards." With that being that, Aaron swiftly ran to the nearest VCR, placed Andrei Rublev inside; and quietly began to watch, to gaze, to see, the lids of his eyes gently waking. Finally, he had found a life worthy of pursuit. So, he packed his bags and moved to New Hampshire. The Sensation of Sight is Aaron's first feature film.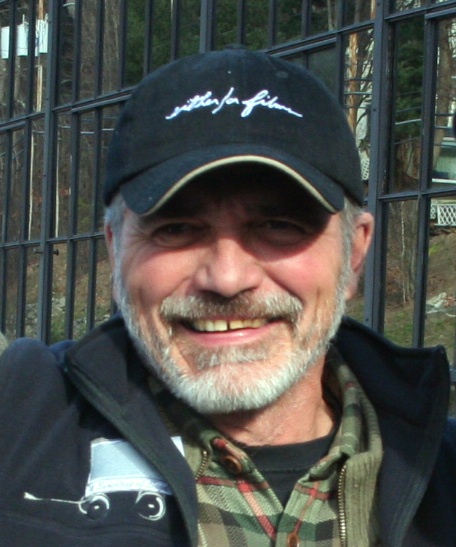 Buzz McLaughlin (Executive Producer/ Producer) — Co-founder of either/or films, Buzz has spent the last four decades in the arts and entertainment industry. A playwright and screenwriter, he has also written for television and is the author of the best-selling book The Playwright's Process. The recipient of numerous playwriting awards, including the National Play Award, he is founder and former Artistic Director of Playwrights Theatre of New Jersey, holds an MA and PhD in theatre and dramatic literature, and has been a professor and playwright-in-residence at Drew University.
Darren Moorman (Producer) — Mentored by the acclaimed producer Howard Kazanjian (Raiders of the Lost Ark, Star Wars, Return of the Jedi), Darren has worked for industry leaders such as MGM, National Geographic, Ogilvy and Mather, Shoreline Entertainment, and DIRECTV. The first feature he produced, All Over Again (starring Craig T. Nelson and Robert Loggia), won best feature at the Santa Clarita International Film Festival in 2001. He has also produced Marilyn Hotchkiss Ballroom Dancing and Charm School, an official selection of the 2005 Sundance Film Festival, and The Fifth Patient, which is currently in post-production. He recently line produced a comedy show for Hunt Lowry and Ralph Winter, and is currently in development on several film projects.
David Strathairn (Actor, Producer) — (See cast bios)
Madeline Ryan (Producer) — Born in New Zealand, and educated both there and in the United Kingdom, Madeline moved to Los Angeles 15 years ago to start her career in Hollywood. She was a successful talent agent at one of the top agencies for almost a decade before starting her own management company, Ryan Entertainment. She continues to manage a prestigious list of actors, writers, and directors, including David Strathairn. Her next producing project is titled Hereafter, written and directed by Michael Patwin, produced by Bender Spink, and starring David Strathairn.
Mark Constance (Producer) — A member of the Director's Guild of America since 1993, Mark is a partner in the production company a713production. He has worked as an Assistant Director on such films as Red-Eye, Terminator 3, Bad Boys II, Charlie's Angels, Being John Malkovich, and The Last Castle (to name a few), and has produced and directed music videos for the bands Leaving Eden and The Charms. He has signed with Gravity, a Boston-based production company, as one of their commercial and music video directors, and is currently in discussion with major record labels in Los Angeles and Nashville about bringing his musical visions to life. Next up on his producing slate is Losing Jerry, a film that has Mark partnered with executive producer Tracey Becker (Finding Neverland). Losing Jerry is in currently in preproduction; principal photography will commence in May of 2007.
Christophe Lanzenberg (Director of Photography) — Born in France and raised in Spain, Christophe started working on commercials and music videos when he moved to the United States. He has recently begun working on features, including the just-wrapped Watching the Detectives, a film directed by Paul Soter and starring Lucy Liu and Cillian Murphy. His other feature credits include Park, directed by Kurt Voelker and starring Billy Baldwin; and Vaccums directed by Luke Cresswell. His documentary work includes East of Havana, directed by Jauretsi Saizarbitoria; Brooms, Stomp Out Loud, and Pulse: A Stomp Odyssey, all directed by Luke Cresswell and Steve McNicholas; Fetishes, directed by Nick Broomfield; Concert of Wills: Making the Getty Center, directed by Albert Maysles; and Madonna: Truth or Dare, directed by Alex Keshishian.
Mario Ontal (Editor) — Mario was born and raised in the Philippines. He moved to New York City after leaving college and has lived there for the past 22 years. He started his editing career apprenticing and assisting in feature films such as Robert Altman's Short Cuts and Pret-a-Porter and Alan Rudolph's Mrs. Parker and the Vicious Circle. He has also served as John Sayles' Assistant/Associate Editor on Sayles' last six films starting with LoneStar. He currently divides his time between New York City and Los Angeles.
Michele Ortlip (Casting Director) — Michele has been an independent professional casting director for more than 15 years, working on films in New York and New England, and on countless plays in regional theaters in New York and all over the United States. Her feature film work includes several films with New York's Pakula Productions, including Alan J. Pakula's The Devil's Own, starring Harrison Ford and Brad Pitt. She served as casting director for Playwright's Theater of New Jersey for more than 10 years, and was Artistic and Founding Director of the Independence Theatre Company in Fort Lee, NJ. Currently, she is working on an independent feature for filmmaker Michael Bergmann, which began shooting in Cannes during the film festival. Michele is also the director of Four Generations Art, a fine art gallery on Martha's Vineyard ().
Shawn Carroll (Production Designer) — Poverty-stricken for the last 15 years, Shawn has been working steadily and lovingly in the indie film world as an art director and production designer. Boys Don't Cry marked a launching period into films that were seen in places other than his backyard. You Can Count on Me, John Sayles' Sunshine State, and several TV shows — including ABC's The Job and Curb Your Enthusiasm — followed, establishing him as someone that has the ability to choose projects above all else. The Sensation of Sight is no exception. Working on this film brought Shawn back to his home state of New Hampshire, where he believes all the screenplays in the world ought to be filmed.
Daphne Javitch (Costume Designer) — In addition to The Sensation of Sight, Daphne's recent film work includes The Babysitters, directed by David Ross; The Iron Triangle, directed by Ramin Bahrani; and Orchids, directed by Bryce Dallas Howard. Notable theater projects include Debbie Does Dallas at the Fringe, and Jonathan Marc Sherman's Evolution at The Culture Project. Daphne has also designed for many New York theaters, including The Atlantic, The Flea, The Ohio, and The Kraine.
Rupert A. Thompson (Composer) — A composer and cellist, Rupert primarily spends his time as a member of The Apple Hill Chamber Players, an American chamber music ensemble based in New Hampshire. Highlights from his 2005/2006 performing season include concert tours in the countries of Ireland, England, Israel, Cyprus, Jordan, Turkey, Palestine, Malaysia, Vietnam, Burma, Armenia, Azerbaijan, Georgia, and Russia, and throughout the United States. Having performed in such notable concert halls as Carnegie Hall, the Kennedy Center, and the Moscow Conservatory's Great Hall, Rupert holds degrees from the Peabody Institute (BM) in Baltimore, Maryland, and SUNY Stony Brook of New York (MM and DMA). A scholarship student of Mihaly Virizlay and Timothy Eddy, he has received a career grant from the Concert Artist Guild of New York City, as well as the C.D. Jackson Award of Merit from the Tanglewood Music Center in Lenox, Massachusetts. Live radio broadcasts of his solo engagements include WFMT of Chicago and WQXR in New York City. Rupert performed all cello parts on The Sensation of Sight film score.