In the Press
Aaron Wiederspahn explores THE SENSATION OF SIGHT in a Movie Maker Magazine interview:
"I'm trying to make films for the quiet places of our hearts," explains Aaron Wiederspahn, director of the independent feature The Sensation of Sight. "I hope that people will find something in them that is personal; something that speaks to the interior of their own individual space."
Don't misunderstand—Wiederspahn hasn't made an abstract, experimental film. But what has resulted from years of effort is a winding drama of epic proportions and certainly not something that many first-time moviemakers attempt. The choice, Wiederspahn says, was clear from the beginning; He knew he must take the difficult route if he was to really bring his first feature screenplay to life. In the end, that means a movie that revolves around six main characters looking for resolutions to their shared problems. Among them—and the man at the center of it all—former teacher Finn, played by David Strathairn…" Read more
---
"David Strathairn shares THE SENSATION…" in an interview for The Warren Report:
Ease equals Elegance. Great actors are often undervalued, for their performances appear deceptively simple. Nowadays, Spencer Tracy rarely receives the accolades his more iconic contemporaries do, though he may be more richly deserving of critical praise. Tracy's brilliance was his on-screen grace; a "naturalness" that could be misread as a lack of technique, due to and despite the fact his portrayals always registered as real. David Strathairn is our generation's Tracy, an actor whose seemingly effortless work reminds us of our own flawed selves, for worse, better and best.
For GOOD NIGHT, AND GOOD LUCK, Mr. Strathairn, finally, garnered an Academy Award® nomination, though prior roles were equally worthy. His shocking turn in BLUE CAR, sterling support in IN THE GLOAMING and his varied appearances in John Sayles' films (EIGHT MEN OUT, LIMBO, PASSION FISH, etc) are all indelible, the impression they leave that of an understated, under-rated genius passing as the common man.
Rather than barter his Oscar® for questionable, commercial castings, Mr. Strathairn has remained loyal to his independent roots. His post-Murrow work includes the prize-winning short, THE SHOVEL; your-own-adventure-choosing computer tale, THE ONYX PROJECT and Aaron J. Wiederspahn's lovely, literate debut feature, THE SENSATION OF SIGHT. SIGHT is a delight, a tribute to Film's remarkable and oft-neglected ability to convey character with wit, warmth and wisdom. SIGHT is as engaging and enraging as a Russian novel and as cinematically compelling as the distinctly American artistry of David Lynch… by way Kenneth Lonergan. Obviously, Mr. Strathairn shares a similar assessment of the movie as it marks the first for which he has served as producer as well as star. Read more
---
Row Three Interview with Aaron Wiederspahn:

Jonathan B.: Being your first feature film, what was it like trying to get THE SENSATION OF SIGHT off the ground?
Aaron J. Wiederspahn: It was a bit like trying to swim across the ocean, madness mixed with euphoria, just hoping to make it to the other side.
JB: How did David Strathairn become interested in the film?
AW: My producing partner, Buzz McLaughlin, had known David back in the mid to late 80's, when they worked together at a theatre company Buzz had founded in New Jersey. They hadn't been in contact for over ten years, but we felt David was perfect for the role, so Buzz contacted and re-connected with him, and we sent him the script. Once he read it, he loved it, and said, yeah, I'd love to do this.
JB: It's great to see that despite his success, Strathairn is still taking on character roles like this. How involved was Strathairn in the creation of his character Finn?
AW: The role was already created and very clear, as far as who the character is, when David attached himself to the project. But, once we started working together, it was definitely his subtlety and nuanced embodiment of Finn that brought this character to full actualization. It became all that I had imagined.
JB: There's an impressive supporting cast too: Ian Somerhalder, Daniel Gillies, Jane Adams, Ann Cusack, among others. How did they all get involved? Were there auditions or did you have certain people in mind already?
AW: We held castings in New York and L.A. This is where we came across most every actor involved in the film. I was very fortunate to have such an amazing ensemble surround me. Very fortunate. Read more
---
Video: Aaron Wiederspahn at the Ashland Independent Film Festival April 5, 2008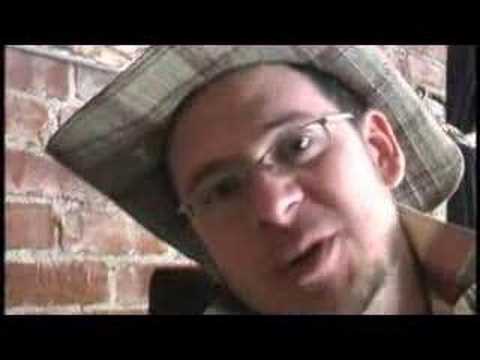 ---
Box Office magazine review of THE SENSATION OF SIGHT:
"Aaron J. Wiederspahn's debut film, The Sensation of Sight is deceiving at … well, first sight. Chronicling what only seems like one man's life through several verses, the existentialist drama with a meticulously constructed story slowly curls open like an envelope over a flame, revealing an ensemble cast who's running amongst each other while braving their own traumas. Sensation distances itself from the baggage of pretentiousness that often afflicts indie productions, and its astute American filmmaking will leave an impression with all who lay Sight on it, and provide quite a Sensation at that…" Read more
---
Cinematical.com review of THE SENSATION OF SIGHT:
"Strathairn is nothing short of amazing in this role. Like the film in general, his performance is ultra low-key, but he can convey so much in just a gesture or change of expression. Like his performance as Edward R. Murrow in Good Night and Good Luck, his interpretation of Finn is a masterpiece of subtlety…" Read more
---
Jared Wheeler's review of THE SENSATION OF SIGHT at Moviegoings:
"The Sensation of Sight is the sort of film that demands to be seen more than once; not because it didn't make sense the first time, but because the experience becomes even richer and more meaningful with each successive viewing. Most movies diminish considerably with repeated viewings, and it is always a great pleasure to discover a film with the opposite quality…" Read more
---
Greg Wright's review of THE SENSATION OF SIGHT at Past the Popcorn:
"The films of David Lean, while almost without exception brilliant masterpieces of exquisite visual design, acting craft, and verbal sophistication, usually leave me emotionally cold. As art, they astound me. As tonic for the soul, they don't do much.
Every once in a while, however, a small, quiet, and very imperfect work of art comes along that profoundly moves me. Narrative films in this category include Mindwalk, Dust Devil, The Jack Bull, Once, The Dead Girl, and Steel City.
Add another: The Sensation of Sight…" Read more
---