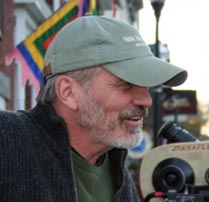 Six months after our DIY release ended, our newly signed distributor Monterey Media began a limited theatrical release, commencing in the late summer of 2008 in several cities throughout the country.
We had traveled to California that spring to meet with the Monterey Media staff, spending the better part of a day at their offices in Thousand Oaks. This was a very productive time as we met almost everyone in the company and had the opportunity to talk through the approach to the marketing and release of the film in some detail.
All of our deliverables had arrived (the long list of items that we, as producers, are contractually obligated to get to the distributor so they can prepare to release the film in various platforms), and we left that meeting encouraged that our film was in good hands. The entire staff was friendly, helpful, and excited to partner with us in getting The Sensation of Sight into the marketplace.
As it turned out, it was tough going for our theatrical release in terms of getting bookings at traditional art houses. Although Monterey worked endlessly to secure bookings, it quickly became clear to all of us that the shape of the indie film industry was already in the beginning throes of what since has become a seismic shift in the distribution of independent films.
One of the problems was that art house chains that had for many years booked films like ours were now being pressured (enticed?) to instead book much bigger Hollywood films. For example, during the summer of our release in 2008 a number of art houses were for the first time being offered by the major studios films like The Dark Knight and Mama Mia—both huge blockbuster hits with an enormous number of prints (4,000 plus) available for bookings. With the national economy already heading south in a major way, many of these art houses saw an opportunity to actually make some serious money—something that most were in dire need of.
As a result, our distributor for the first time ever was suddenly finding it increasingly difficult to book a serious art film like ours in theatres that had been available to them for many years. I have to hand it to Monterey Media and their efforts to book the film. They believed in the movie as much as we did and they worked feverishly to land bookings in the major cities where they had long-standing relationships with theatres.
But it wasn't an easy task. We ended up with a theatrical release in a respectable number of cities nationwide, including New York City, but all of us were disappointed that the release wasn't bigger. Still, we managed to have a limited theatrical release that garnered us many strong reviews from major publications and online sites.
One of my best memories of this phase was our opening in New York City at the Pioneer Theatre in the East Village, a well-known and revered art house for indie films (that, lamentably, has recently closed). The head of Monterey Media, Scott Mansfield, flew in to join us for the opening along with David Strathairn. A milestone of sorts, we savored a sold-out house on opening night with a very appreciative audience.
After our theatrical run Monterey released the film on DVD and the other platforms. They were able to get the movie into almost all the normal DVD rental chains, retail outlets, and Netflix, and over the coming months negotiated a number of Video on Demand deals in the US and Canada.
The film continues to sell and positive word of mouth is still building over a year after its initial national release (thanks to social media–Twitter and Facebook predominantly). One of the things we've learned about indie film distribution is that patience is a must—our film is out there and available and what we're finding is that little by little it's finding its audience.
And for that we are very grateful—to Monterey Media and their belief in the film and to all the fans of the movie who keep spreading the word.
(Next: Further thoughts on independent film distribution…)