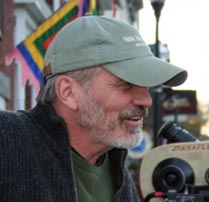 In following all that's been transpiring regarding current distribution paradigm shifts and the like, the most perplexing aspect for me is what is being said or, more accurately, not being said about Netflix as it affects filmmakers' bottom line.
It's pretty much a given that Netflix some time ago won control of the rent-by-mail DVD business in this country. With 12 million subscribers, half of whom stream movies online, it is also rapidly commandeering the Internet streaming business.
For the consumer, Netflix is a wonderful and convenient way to have access to just about every movie out there in release, new and old. In fact, the company has become a household mainstay, much like Amazon.com arrived on the scene years ago and as its subscriber base continues to rise, this will only solidify their permanence in the minds and hearts (and habits) of movie lovers.
And, to the company's credit, its deals with distributors to date have been quite successful in tipping the numbers towards their own profitability with the argument that they are able to make any film available to the world and allow enormous access to films that otherwise wouldn't be nearly so widely available.
However, when it comes to filmmakers—the actual content providers—it's fairly universally agreed that from a monetizing standpoint, Netflix is a disaster. The problem stems from the fact that every filmmaker understandably wants his or her film to reach the widest audience possible and Netflix has become a must if this is going to happen. In fact many filmmakers consider it a benchmark once they are picked up and in their catalog. However at the same time—especially with the streaming option now on its rapid rise—consumers can easily and very cheaply enjoy unlimited films for a relatively small monthly fee. And there lies the dilemma.
As we all know secrecy is the operable word in this industry, especially when it comes to distribution deals, but as far as I can decipher, the typical deal with Netflix for a distributor involves either selling a certain number of DVDs to the company at a negotiated price with Netflix then mailing the DVDs out to subscribers on demand as many times as the disc will withstand and/or an annual licensing fee paid by Netflix for customer streaming of a film based on a formula that involves the number of customers who have that film already in their queue. More recently a growing number of distributors are insisting that the streaming deal be based on the actual number of times a film is streamed as opposed to a one-time annual licensing fee.
But regardless of the details of the deal or deals, it's the filmmaker who is getting shafted financially. If distributors are unhappy with their piece of the Netflix pie (and a growing number are), it's a foregone conclusion that filmmakers are pretty much being left out of the equation entirely when it comes to making any money from the Netflix deals. I'd love to hear from filmmakers who are happy with the profitability of their Netflix arrangement. Do any such filmmakers exist?
The biggest and scariest aspect of all this is that Netflix is only getting bigger and more all-pervasive. This month Netflix will be coming to the iPad, for example, so for $8.99 a month iPad owners will have access to Netflix's full-streaming library.
And all this is happening at a time when filmmakers finally have the tools to get the word out about their films to a vast audience (as has been discussed at length on this blog with many filmmakers). If we give Netflix our films that pretty much kills our customer base for selling and streaming our films off our own websites because all Netflix subscribers (the movie lovers that make up our audience) will have instant access to our films already and at a very miniscule price. And as a result we see nothing or a mere pittance from that robust business.
So what do we do? Not give our films to Netflix in the first place…? A radical thought for sure. Let's face it, we have no power as filmmakers to negotiate a better deal with them ourselves and distributors are trying to put pressure on them for their own reasons, but even they aren't having much luck to date. On the other hand, if we don't go with Netflix, we run the risk of not getting our films out there to the vast audience we want to reach. And if we land a distributor, we're living in a pipe dream if we think we're in a position to tell them how to negotiate their Netflix deals… So where does that leave us filmmakers other than perpetually ripped off financially?
A dilemma indeed. Or is the emperor actually wearing clothes and I just don't see them?