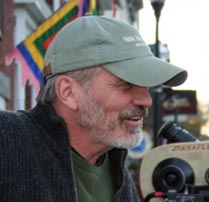 Since the release of The Sensation of Sight in the summer of 2008, the independent film industry has been pretty much turned on its head.
And this is especially true regarding distribution. It comes as no surprise to anyone who has been following the independent film business that the last couple of years have seen a long-awaited and much-anticipated disintegration of the old distribution model and the beginnings of a new era in terms of how filmmakers are finding access to the global marketplace.
As I sit here writing this post, I find myself thinking back to when we first launched Either/Or Films five years ago and how different the landscape was then. It's pretty amazing all that's happened since. Putting together a distribution strategy when we were raising financing for Sensation, our first feature film, was a no-brainer: try to get into the best festivals, wait for a favorable distribution deal to materialize, sign an all-rights deal, and then watch from the sidelines as our distributor marketed and released the film on all platforms.
What was missing back then, of course, was social media and what's happened with the ever-expanding role of the Internet and the ability of filmmakers to even think about marketing to their global audience directly. Sure, we had email lists and Constant Contact or Vertical Response and the like, but few other tools at our disposal that could allow us to actually take the reins of widespread marketing/distribution into our own hands.
Today, of course (a mere five years later), all that has changed. We're at the front end of a very exciting time for independent filmmakers. Digital photography and editing is now within reach of just about everyone. But the real game-changer is what's happening in distribution and the potential power now available to us to market our own projects worldwide. Let's face it, we're all entrepreneurs (or should be!) and when all of a sudden it's possible for us to take charge of finding our audiences and building our fan bases ourselves—and then market directly to them—we're looking at a whole new playing field.
This is not to say that traditional distribution is dead or that it will totally disappear in the near future, but it's clear that we've arrived at a crossroads and those of us who are looking for the best shot at recouping our production costs, entering profitability with our projects, and creating some sense of sustainability in this filmmaking madness we can't seem to shake from our systems–we're already heading down this new road.
It's definitely happening and even the Hollywood studios are getting nervous about it and wondering how they too can sink their mammoth teeth into the new distribution models. And when that starts to happen, you know we're heading in the right direction.
If you haven't run across him yet, one of the people who is a real trailblazer in this regard and who is out there in the trenches putting his experience and amazing energy to work for us is Jon Reiss. His new book "Think Outside the Box Office: The Ultimate Guide to Film Distribution and Marketing for the Digital Age" is currently the road map to become familiar with as you ponder your next journey down distribution road. He even has an on-line version at a great price that includes periodic updates in an arena that is literally evolving weekly. Jon's book gives a thorough glimpse of where things are heading, and he's certainly getting us thinking about our own marketing/distribution strategy for our next film Someplace Like America.
All this to say that the future of independent filmmaking–regardless of what we've been hearing for months now–is far from dead. What's transpiring, I believe, is the beginning of a new golden age for filmmakers when the word "independent" or "indie" attached to who we are as artists and producers will be as obsolete and irrelevant as the word "motor" is to "car."
For more on this, check out Tyler Weaver's blog post with some interesting comments from David Paul Baker.
(Next: More musings on the state of the industry)