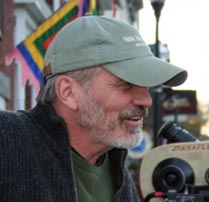 One of the things I've learned as a producer of low budget features is the degree of patience it all takes. A patience that allows one to keep his or her sanity as a project creeps along at a snail's pace even though you keep pushing as hard as you can on a daily basis to make it breathe and take on a life of its own.
Of course this is not a new concept. Every producer knows that tenacity and perseverance are primary ingredients if a good film is ever going to materialize. But let's take a closer look at the kind of patience needed to work in this industry and then how it should be applied.
I used to be struck by the sheer amount of time—years—it often takes to get a film made and into the marketplace. Once you've been through the process for the first time, that no longer is a puzzlement. The various mountains one has to climb as you journey through the phases of making a film fairly quickly informs you that oh, I get it, this has to be looked at in terms of a series of substantial blocks of time—months if not years for each.
It all starts, of course, with the story you want to tell. And that means that a script needs to somehow come into being. Not much building can proceed until the foundation is laid. And patience in abundance needs to be showered on this effort—patience to not proceed until you are absolutely convinced that you have a blueprint that is brilliant and will hold up to the weight of all that will be placed on top of it. I think this is an area of the process where often way too little patience is applied, where there is too great a rush to get to the actual shooting of the film and getting it in the can. Why is it that so often it's forgotten that nothing gets a film made faster than having a screenplay that soars?
The financing of the project—especially in these difficult economic times—is another major hurdle. And here patience is more often than not forced upon you, sometimes painfully so. With an exciting project under your arm it's fairly easy to get people interested and even excited, but quite another thing to get them to write the check. So you investigate every lead, talk yourself silly pitching, and if you're lucky one in ten prospects come through. And that's being optimistic. And only if you've been able to vet potential investors accurately. Strategies and schemes are tried to cobble together the needed funds to bring your baby to life and suddenly you find yourself looking back over the past year or more still climbing this same mountain.
With our first film, The Sensation of Sight, it took us four months to raise our million-dollar budget. That was five years ago. Today, it's a different landscape with much higher and riskier heights to scale. Granted, our budget for our next feature Someplace Like America is a bigger number, but it's still on the low end of the filmmaking spectrum. But it's patience that's helping us find our way and keeping us on track—teaching us how to methodically put one foot in front of the other and attempt to take advantage of every possible opportunity that we find in our path. Sometimes it seems like it's never going to happen, but then that's when the real test begins, isn't it? It's a patience mixed with hope and not taking no for an answer.
Of course, the fun part is when the money's in the bank and you pull all your friends together for the actual making of the movie. But even here from time to time it's necessary to step back, take a deep breath, and ponder the choices before you that are going to determine what kind of film you end up with. And sometimes patience in this phase, although applied in a different context, is just as necessary.
And then there's post and putting together the film you want at the length you need. No rush jobs ever succeed in this department.
And finally you have to get the film before your audience, and in many ways this is the biggest mountain of all; scaling it requires careful planning that starts way back at the beginning of the project.
Not an easy business, making movies. But one thing is clear: for any kind of sustainability that includes long term sanity while producing quality work, patience is a must.