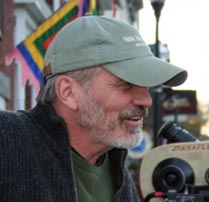 As our company struggles to raise the financing for our next feature, we're spending a lot of time and effort asking ourselves—and lot of others who are following the rapid changes in our segment of the industry—just what might be the ideal set up for us in the future from the development phase of a project through distribution.
Mind you, we're a small production company operating outside of the Hollywood "system" trying as best we can to produce films of artistic integrity that have something meaningful to say about important social and human issues. We also want to be around for awhile and sustain our careers as filmmakers.
The first overriding concern for us is maintaining artistic control of our projects. If we aren't in a position to call the shots in terms of the kind of films we're putting out there, then we have to ask ourselves if it's really worth the effort. Financing deals may be offered, but if the strings attached don't allow us to have the final say on the kinds of picture we're going to make, then we'll keep looking for funding from other sources that can live with us and our artistic vision.
Call it naïve or unrealistic or overly-purist, but we don't want to get sucked into a situation where we end up being guns for hire and find ourselves taking orders from folks who don't really get what we're trying to accomplish and whose only real concern is making a nice return for their buck (not that making a nice return is a bad thing—only that, for us at least, it can't be the only thing).
These are tricky waters and artistic compromises can sneak up on you—especially if you're getting exhausted looking for financing. The whole question starts looming of how commercial or marketable a project might be or could become if just a few adjustments are made here and there. And going after a certain actor or two that may not be perfect for the roles, but who definitely would bolster salability. And taking a look at picking up the pace and not getting too far out there stylistically and not overreaching in terms of what an audience can comfortably digest intellectually.
It can get seductive as these "suggestions" come at you one at a time and are accompanied by a little friendly persuasion in the form of six figure checks being waved in front of your face. And slowly but surely the project can start taking on a different shape and focus and suddenly one day you realize—after you've given a good piece of you life to it—that your baby is no longer the film you wanted to make. This we want to avoid.
Our other main concern is who controls marketing and distribution. The stories are abundant and keep streaming forth concerning filmmakers not seeing any financial return with traditional distributors. Their film might get out there in the marketplace, but for the producer the cost of making the film remains this big red number that doesn't seem to diminish over time after the film's release. And we feel almost a moral obligation to at least return our investors' money—something that is helping us determine how to proceed given the current morphs taking place in the distribution end of the industry.
Part of this problem is not having any real say in how the project is marketed and on what platforms it's released and when. Although it's much more work, we're thinking we'd like to retain all rights and hire talented and experienced folks who know what they're doing to work with us where needed to get our films to market. And there are a growing number of wonderful people and firms to choose from for this purpose.
The trade off of workload vs. keeping control of the life of our film, although somewhat daunting, seems worth it to us. So we're including a healthy marketing/distribution line in our next film's production budget. That, and starting at least a year in advance in an effort to build a substantial social media presence and fan base for the project.
Keeping up with everything that's happening in the distribution arena is not easy and sometimes is a bit exhausting. But it's also exciting. We sense the day in the not too distant future (maybe in the next year?) when we as filmmakers will be able to not only take charge of our own theatrical releases, but also set up website stores that can handle just about all platforms—streaming, downloading, VOD, DVD sales, etc. All we need for the latter (easier said than done I realize) is for television sets to be hooked up directly to the Internet which in turn would allow direct access to our websites where our audience can then order our films any time and in any way they choose. Some filmmakers are already doing at least a partial version of this with the technology that's currently available.
The constant danger for all of us is that current and future deals by the big boys will effectively eliminate our ability to do this ourselves. No doubt they will do their best to slam the door in our face or make sure that they will get a piece of our action. So, as I've said before, we need to stay awake, listen closely, keep talking and sharing, and if need be start thinking about putting together some kind of organization that will protect our economic (and by association maybe also our artistic) interests—something like an International Filmmakers Guild—where there's strength in numbers and a single loud voice that can't help but be heard and hold sway.