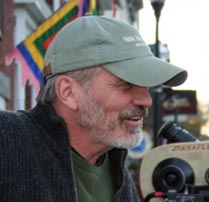 Part 1: Independent vs. Studio films
Often I find that people are confused by what is meant by an "independent feature film" as opposed to any other film you might see at a theatre.
A true independent film is one that has been entirely produced outside of the Hollywood studio system.  It has no studio financing, no studio control over artistic elements or personnel, including the final cut of the film, and, in most cases, no guarantee of distribution.  It is conceived of, financed, and made by a group of people who have a collective passion for the story they want to tell and an almost obsessive determination to get their movie completed and into the marketplace so it can be experienced by the public they're convinced is going to embrace it with open arms.
An independent feature film company is a David facing the Goliath of the Hollywood "System." These are films made on faith and trust and with a belief that what they have to communicate is important, if not critical, to the future of our culture and society, and because of that belief there's a willingness, almost an eagerness, to attempt to beat the odds.
Recent years have seen an increase in the number of successful independent films that are made outside of the studio system and eventually gain wide distribution. Most have taken the film festival route, gaining recognition through garnering awards and positive response at showcase festivals such as Sundance or Toronto and then landing a distribution deal with an established distributor.  Budgets have ranged from a few hundred thousand dollars up to twenty million dollars.
Because of these successes there's an ample and seemingly unending supply of independent films being produced every year by filmmakers who believe their movie will beat the odds and somehow find a wide audience.
Well, for better or worse, I'm one of these people.  So is my business partner Aaron Wiederspahn.  Five years ago we formed an independent film company called Either/Or Films and–call us crazy–we set out to produce our first feature film.
What I'm about to tell you is our story of what it was like to make "The Sensation of Sight." Hopefully it will shed some light on an exciting aspect of the film business–how it works and the many phases involved in actually producing an independent feature film.
(Next: How it all began…)