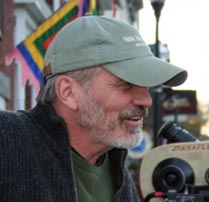 Once our opening night was over all of us breathed a sigh of relief and set about having a good time at the festival in one of most beautiful cities in Europe. The festival itself helped out in numerous ways by supplying us with great hotel rooms with ocean views, passes to everything, and numerous dinners and parties in various tucked-away places in the oldest section of town. We enjoyed seeing films from around the world and caught glimpses of film actors and directors there such as Jeanne Moreau, Max von Sydow, Matt Dillon, Tom DiCillo and Steve Buscemi.  One night we wandered back from a screening of "The Children of Men," amazed at the beauty of San Sebastian and the fact of where we were and what was happening to us, so far from home….
Probably the most enjoyable part of our trip—other than experiencing standing-room-only audiences respond positively to our film in five different venues throughout our stay—was simply walking through the ancient streets, poking into shops, and grabbing tappas to eat that seemed to be available at every corner. Needless to say, we never went hungry, even though Aaron–who didn't like tappas–was always trying to lure us into McDonalds.
One of the fun experiences throughout our stay was arriving at one of the many parties and almost always having a crowd of Ian Somerhalder fans waiting at the door to get his autograph. Ian, who played Boone in the first season of  "Lost," was at that time a hot commodity in Europe because the series had just started over there the season before the festival. As a result, we were witness to what a celebrity has to put up with at every turn. Ian was always the patient gentleman, gracious and appreciative of the constant attention. We enjoyed giving him a hard time about it, but it was also fun to watch him interact with such ease with his army of fans.
As filmmakers, we had passes to see any and every film we wanted to and we tried to take advantage of the privilege. And as participants in the festival, we also had easy access to other filmmakers and had the opportunity to make a lot of new friends. We had many great discussions about our particular movies and the state of independent filmmaking around the world. We concluded that indie filmmakers in Europe have a somewhat easier (but still not easy) time getting their films financed than those of us on this side of the pond. Generally speaking, movie making in Europe is actually considered an art form and therefore government grants are often available. We grew quietly envious, knowing the degree to which we as truly indie filmmakers in America have to fight to get anything of value produced.
The huge sales office was another interesting haunt for us during our stay. This was an enormous marketplace on a lower level of the main festival building, the Kursaal. Although San Sebastian isn't considered one of the major market festivals, the space was crammed with long rows of booths manned by sales agents, distributors, and film equipment vendors. Posters lined every inch of wall space. Buyers were crowded into small screening rooms and banks of television screens were available for watching any film that was a part of the festival. Off limits to the public, this market place gave us a opportunity to escape the crowds and get a taste of the business side of it all—not necessarily our favorite pastime while at the festival, but part of the total picture to be sure.
Overall what San Sebastian provided us in the end was a sense of where we might fit in the international cinema landscape as we continued to launch The Sensation of Sight. We felt privileged to have been a part of such a prestigious festival and were grateful to have learned so much about our film and how audiences responded to it outside of America. And for all of us, the memory of this initial release of the film into the world will always be special—not only because it was an impressive way to initially launch the movie, but also because it served as a lovely way to celebrate the two and a half years of hard work it took to get us there.
(Next: On to Denver and the U.S. premiere…)