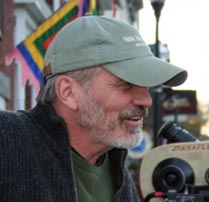 It all began in the fall of 2000 in Orlando, Florida when a play of mine (Sister Calling My Name) was being given its Florida premiere.
The production company flew me down from New York for the opening. Aaron Wiederspahn, who eventually became my producing partner in our film company Either/Or Films, was one of the founders of the theatre company and had championed my play and was its biggest fan.
Of course because of that we instantly hit it off. There's no faster way to win me over than to fall in love with one of my scripts.  So I shared with him another play of mine and he loved that one even more–not only did he love it, he totally understood it. By this time, I knew I had to do something with this guy.
So we stayed in touch and a year later Aaron came up to visit my wife and I in New Hampshire at our then summer home (now our year-round home).  He shared some of his writing with me and I responded to his work like he had responded to mine.  We started talking about his passion–movies–and about working together on projects.  On one Saturday during that visit we outlined in detail an entire feature film together and identified half of the music we wanted to use in it.  It was an exhilarating experience for both of us and was the event that sort of set us in motion.
About six months later Aaron closed up shop in Orlando and moved to the New York metro area, where we were living at the time, and the two of us started the process of forming our film production company.  The first task before us was to write a business plan that spelled out the kinds of films we wanted to make and our producing game plan for the first five years.
More than anything else, what solidified our partnership and motivated us to give birth to our company was our mutual belief in what we wanted to accomplish with our films. We agreed that what was lacking in current American cinema was serious reflection on the values that keep us going and that are the cause for healing and hope in this world. We wanted to tell stories that set those questions before an audience and make them feel and think, stories that allow an audience to walk out of the theatre in a better place than when they came in, movies that don't shy away from the harsh realities of life, but in the end leave people with a deeper sense of their own humanity and hope for the future. Films that, like all great art (in the words of Leonard Bernstein) don't just reflect the chaos of the world but attempt to make some sense of it.
It took us about five months to finish this document–our business plan–and it was a crucial exercise for us. We read every book in print on the business of movie producing, studied business plans from other fields and other film production companies, and brushed off and resurrected long dormant knowledge I'd gained as an economics major in college. It forced us to think ahead and to research independent filmmaking in detail. What we ended up with was a 27-page document that said it all–everything we wanted to accomplish and how we were going to set about doing it for the next five years. It was a critical first step.
(Next: Entering the development phase with our first film…)