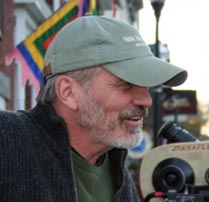 As our festival run got underway with San Sebastian, we were already thinking in terms of finding a distributor.
I have to say at the outset of sharing this part of our journey that the timing for us with this film in terms of what was beginning to happen in the industry in general for indie filmmakers was not the most advantageous.
A retrenchment among distributors of indie films was at that time already quietly underway—a retrenchment that surfaced big time about a year ago with the demise of so many specialty wings of the major studios and many other smaller distributors and that hit full force at the beginning of this buying season as witnessed by the almost total lack of any indie film sales at the Toronto Film Festival this past fall—one of the worst years in recent memory.
Actually, what we're seeing is a seismic shift within the industry as a whole, especially in terms of distribution for independent films. The onslaught of the digital age is finally hitting the industry and, in the process, effectively turning the business of filmmaking upside down.
Of course, these clouds building on the horizon went unnoticed by us and just about everyone else back when we were starting to actively probe the distribution waters. With the help of our producer's rep we sent out queries and screeners to all the obvious art house distributors with no results. So we kept working the festival circuit and were pleased to get into many highly respected fests with rave reviews from programmers and continued strong notices in the press. Our approach was that we just had to be patient and persevere—that a favorable deal would materialize eventually—a deal that would give us a limited domestic theatrical release (something we'd always envisioned) as well as all the other platform releases.
But as the months wore on and we knocked off festival after festival it started to become clear to us that maybe a traditional distribution deal wasn't in the cards. We did get a couple of offers that we turned down because they didn't really make any financial sense for us—meaning that there was no advance offered and little or no promise of a marketing budget to promote the film in even a very limited theatrical release. We did get an offer for a DVD release with a small minimum guarantee that in hindsight might have brought in some revenue for us, but at the time, for better or worse, we were still of the mindset that a theatrical release was how we wanted to start the rollout of the film. In fact, that was the way (up until the past year or so) almost all good indie films were expected to hit the marketplace.
So on we went from festival to festival hoping that with the mounting number of strong reviews that something in the form of a reasonable distribution deal would still materialize. We felt then and still feel that we have a serious obligation to our investors to at least repay their investment, and we were and still are determined to make that happen. One way or another we knew we had to find a way into the marketplace that would give us a fighting chance to recoup.
Finally, about a year into our festival run we came to the conclusion that maybe it wasn't going to happen as we envisioned. So we made the decision to take advantage of the good will and strong press we had garnered in our home state of New Hampshire and make a concerted effort to release the film theatrically ourselves at a number of theatres and see what happened. As it turned out, this was one of the best decisions we could have made.
(Next: Our DIY world theatrical premiere…)