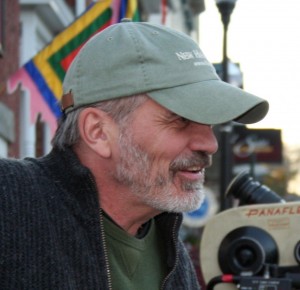 Once we'd raised enough of the capitalization so that we could commit to actually shooting the movie, the decision was made to green light it. We set a three-week shooting schedule of eighteen days and then counted back four weeks from the start of the shoot and staked out this four-week period as our formal pre-production timeframe.
With these dates set, we flew to Los Angeles for several days of auditions. Our script had already been sent to a number of talent agencies in the preceding weeks and it received a very favorable response from key agents. When we started auditions we realized that the word of mouth about the script had spread around town and we had a wonderful turnout of actors eager to be a part of our project–even actors who, because of their "positioning" in the industry couldn't formally consent to actually read at auditions, but could only "meet" with us (one of the many silly aspects of Hollywood and the positioning and maneuvering that so often takes place there at the expense of the work itself).
From that audition trip and other connections with actors we had made, we were fortunate to have the entire film cast by the start of our four  weeks of pre-production.
I should mention here  that it was about this same time that David Strathairn began winning accolades for his wonderful performance in Good Night, and Good Luck, directed by George Clooney. He had just won the best actor prize at the Venice Film Festival and went on to receive best actor nominations from the Golden Globes, The Screen Actors Guild, the Independent Spirit Awards, and finally his Academy Award nomination for Best Actor. It's one of the many fortunate turns of events for us as David, in the midst of all this happening in his career, proceeded at the same time to give us an amazing and powerful performance as the lead in our film.
And, while I'm at it, the rest of our cast cannot go unheralded. Running down the list of principal roles, there's Ian Somerhalder, who played Boone on the first season of the ABC-TV series Lost and is currently starring in the new CW series The Vampire Diaries; Daniel Gillies, who has been seen in several films, including major roles in Spiderman II and Bride and Prejudice; Jane Adams, who holds a Tony Award for best actress and has appeared in numerous indie films such as Eternal Sunshine of the Spotless Mind and Little Children as well as the current HBO comedy series Hung; Ann Cusack, sister of Joan and John Cusack, who has been featured in numerous films and TV movies and series; Elisabeth Waterston, the daughter of actor Sam Waterston and already a young veteran of stage and film; Joe Mazzello, formerly a major child star, playing leads in Jurassic Park, Shadowlands with Anthony Hopkins and Debra Winger, and The River Wild with Meryl Streep, Kevin Bacon, and David Strathairn, and starring in the upcoming Dream Works mini-series The Pacific; and last but certainly not least, Scott Wilson, the veteran film actor who has appeared in leading roles in dozens of films including In the Heat of the Night, In Cold Blood, Dead Man Walking, and The Last Samurai.
This group of artists all became part of our growing family and gave us full use of their extraordinary gifts as actors. I also must add that they all worked for scale in a "favored nations" agreement, fully embracing the spirit of independent filmmaking.
At this same time we also signed on the rest of our key artistic and business personnel we'd been in discussion with for some time, including our production designer, costume designer, props master, gaffer (or lighting designer), director of photography, camera operators, sound designer, editor, production accountant, still photographer and our making of documentary filmmaker, and our composer Rupert A. Thompson, one of the mainstays of the Apple Hill Chamber Players, the world renowned classical music organization housed just down the road from us in the New Hampshire hills. Rupert had been working with us for nearly a year composing our original score.
(Next: Preparation, preparation, preparation...)