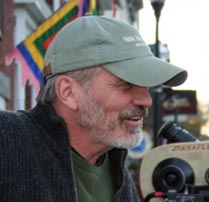 Pre-production also is the time that the shooting schedule is revised and refined until every minute is accounted for. This is the job of the 1st Assistant Director and we had the best in a man named Greg Smith, who had ADed on Adaptation, Being John Malkovitch, and The Ice Storm among others (since our film his credits include Little Miss Sunshine and Sunshine Cleaning). Greg studied every location, talked at length with Aaron and our director of photography Christophe Lanzenberg, and created a game plan for the shoot that made it possible to complete the film on our very tight eighteen-day schedule with very little overtime.
At the same time the schedule was taking shape, Aaron spent a good part of the pre-production weeks scouting locations with Greg and Christophe, planning shots and figuring out lighting needs in advance.
This careful planning of the actual shoot was critical for us. It kept us moving when those inevitable unexpected problems arose on a daily basis at every location and had to be dealt with then and there.
Our downtown Peterborough production office was bustling from  day one of pre-production. Our accountant set up her office, opened our account at Ocean National Bank, and started cutting checks and producing cost reports. One of our producers spent days finalizing actor contracts. Mark and I met with the Boston local of the International Alliance of Theatrical Stage Employees to negotiate our union contract. Our props master started piling in props for the shoot. Our costumer started to fill racks with costumes. Our production coordinator negotiated seemingly endless deals with car and truck rentals, house rentals, and equipment rentals, and was in daily negotiation with the Screen Actors Guild on various aspects of the shoot. Karen Sampson, our associate producer and a Peterborough resident, scheduled all our press interviews and handled hundreds of calls dealing with every aspect of the shoot.
On the final Thursday of pre-production everyone gathered together in the banquet room above Gatto's restaurant in downtown Peterborough for our big production meeting. This was a special time for me. There must have been at least fifty people in attendance–each person there because he or she was playing a crucial role in the making of our film. This was our movie family. Aaron and I gave little speeches and every department presented their reports. We were all  excited to plunge into three weeks of movie-making madness.
(Next: The shoot…)