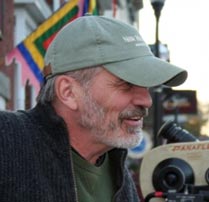 Let me give you a taste of what I mean by that.
During the morning of the second day, the shoot was scheduled for outdoors. But about 9 a.m. a steady sleet suddenly began falling, so we decided to turn to our contingency plan and shoot inside the bed & breakfast.
This also happened to be the day that most of the crew was grumbling nearly to the point of mutiny because the hot water wasn't working that morning at the Maplehurst Inn in nearby Antrim, where most of them were staying, and they came to work feeling miserable to begin with.
Then, about 10 a.m., our one gigantic generator Read the rest of this entry »